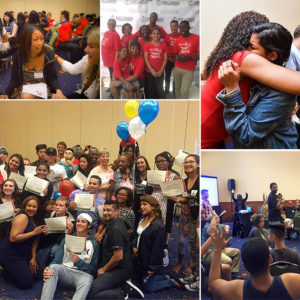 Motivating the Teen Spirit (MTS) responds to these cries for help by teaching Emotional Literacy and Healthiness. This revolutionary, interactive program empowers young people to take responsibility for their lives, respect themselves, and live with integrity.
In the last 15 years, MTS has proven that it is part of the solution to the growing angst in youth worldwide. As of January 2008, we have served over 90,000 teens, prevented more than 3,000 teen suicides, influenced 850 teen dropouts to return to school, and reconnected thousands of teens with their families. And the numbers keep climbing!
We invite you to join the ranks of those who have decided to be part of the solution—those who have recognized the need for increased emotional health among teens, and have realized that MTS delivers predictable results. Many of the 90,000 teens who have come through our workshops and changed their lives were able to do so only because individuals, organizations, and companies stepped in to support them financially.
By becoming a Second Chance Angel, you will make it possible for teens in your community to get access to a world-class emotional literacy training program.
Our video below will give you a brief snapshot of what happens inside of our workshops and in teen lives as a result of our programs:
---
---
Become an Angel – As a Second Chance Angel you support our global movement of providing empowerment skills for life.
Sincerely,
Empowering the Human Spirit
You will receive a receipt for your tax-deductible donation when it is made to our 501(c)(3):
Empowering the Human Spirit Foundation
300 Carlsbad Village Drive Suite 108A, Box 187
Carlsbad, CA 92008
---
YOUR CHANCE TO HELP!
Become A Monthly Donor:
---
Or pick a set amount below:



Star Angel:

Diamond Angel:

---